The 2023 TSRVFD Memorial Day Weekend BBQ Picnic will be held on Sunday, May 28th at One-Eyed Jack's. We hope to see everyone there for food, games, fun, and community! One-Eyed Jack's playground is located at 39519 Leeward Rd., The Sea Ranch.
This year we are celebrating the VFD's 50th birthday (which was actually February 5, 1973).
The Memorial Weekend picnic is the VFD's major fundraiser for the year. It is an "old-fashioned" picnic, a simple (but tasty!) menu of hamburgers, hot dogs, hot links, veggie burgers, slaw, beans, fruit, dessert, soft drinks, beer, or wine; kids games at 1:30 (sack races, water balloon toss, tug o' war…), and a visit from SMOKEY BEAR for the kids and the kids-at-heart.
The VFD and CAL FIRE staff and their fire engines will be there and you can ask questions about the department and see the equipment.
Many volunteers are needed to help to make the picnic a success, and we look forward to seeing many "old hands" as well as new faces. Volunteers are needed! Click here to see open spots.
To celebrate our 50th year we have created these limited edition items. Get them white they last!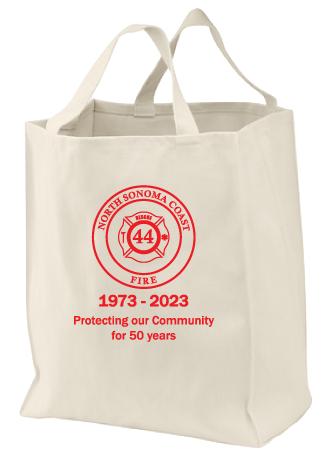 Get yours at the picnic or buy now at nscvfa-shop.weebly.com